I've always admired Barbers and the way they work, their shops, clientele and what they do. When I was a kid, my dad would always take me to the Barber Shop to get my hair cut while my mom always went to a salon. I have several friends who are Barbers and I spend time hanging out with them in their shops and as the saying goes: "Spend enough time in a Barber Shop, you're going to get a haircut". So, with the resurgence of Barber Shops, it's now time for me to learn Barbering.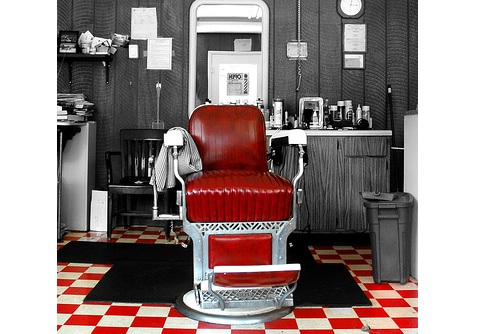 So my quest began with looking up the various Barber Colleges in the Bay Area. There weren't many so I figured it would be easy, right? Yeah…not really. I toured three different Barber Schools and kept seeing the same thing: not a lot of happy students and no one (even the educators) seemed to be interested in being there. It felt that everyone was there to just learn the basics and get out to make that money. I found myself telling the admissions coordinators (at one school there wasn't one) that I'd take the information and think about it. In short, I was starting to feel discouraged about my decision to become a Barber.
While visiting one of my friends, a recent graduate of Cinta Aveda, told me to try out the school. He told me how much he enjoyed coming to the school and while it was only Cosmetology, he got an awesome education and the school looks good on a resume. So I decided to check it out. I went to the website to set up an appointment to view the school, receiving a call within that same day from both Jocelyn and Katie to set up an appointment for later in the week. This amazed me because the other schools I looked at never set-up an appointment that fast. In fact, they never called me back in the first place. I had to "drop-in" to the other schools to get a tour or info for that matter.

My appointment was on a Wednesday with Katie. We toured the school and I noticed that all the students on the salon floor were not like the other schools, everyone wanted to be there. All the students seemed like they wanted to learn and to do their best. This was evident on the salon floor and in the classroom too. Everyone was excited to be at this school! When it came down to brass tacks, Katie and I sat down to talk particulars. I expressed that originally I wanted to be a Barber but I could learn Cosmetology first and maybe go on to a Barber Crossover elsewhere (in California, Cosmetology and Barbering are both 1600 hours and an additional 400 hours for the crossover to get both licenses). I was then informed that
Cinta Aveda
was beginning to offer Barber Crossover to Aveda Alumni only so it was possible that I could get my education for both licenses at one school. That was it! That was what made my decision final.
While on the school tour, I was more interested in coming to
Cinta Aveda Institute
than to any other school. But finding out that I could learn to be a Cosmetologist and a Barber from the same institute cemented my decision. This meant that I could put in my 1600 hours, learn from some amazing educators and set my state board test dates with the knowledge (and confidence) that I can pass that test, both tests, from the same institute. I signed up that same day. Two days later was the orientation class and the following Tuesday was my first day in school. Never in my life have I ever been so confident and the least hesitant in making such a quick decision!
My time here at
Cinta Aveda Institute
has been amazing! I've met some seriously creative people, some amazing educators that never seem to run out of things to teach and some awesome tricks to help me in my future as a Cosmetologist (and Barber, but let's not get the cart before the horse).
I am currently in the Alpha phase of school, on the salon floor and cutting hair already. I get to work alongside of the very first Barbering class coming out of Cinta Aveda (and I'm also their shave model…talk about win-win) watching those students learn and grow alongside of us. I can't wait to see what's in store for me in Cosmo and look forward to starting the Barbering phase as soon as I finish my 1600 hours. For the first time ever in my life, I'm not looking forward to the day when I'm done with school.
If you're hesitant about learning Cosmetology or Barbering, I recommend coming to the school to take a tour. You will see how awesome this school is!