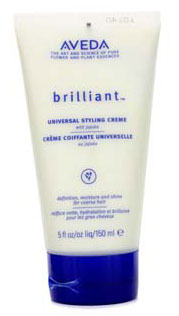 What a great question! Sometimes a heavy styling cream is intimidating when you're unsure of how exactly to use it. But after some experimenting with Aveda's Brilliant Universal Styling Creme (goodness, what a title!) I've come to absolutely love it. It has become a must have for all of my blow outs!
Most of my clients want that soft, lived in, beachy wave look when they leave after a fresh hair cut. And they want it to last ALL day. Who can blame them?
Brilliant Universal Styling Creme adds just enough weight to smooth everything down and protect the hair from excess heat and humidity, while providing the perfect amount of hold for an all day style. I only ever use a dime-size amount, after applying some of Aveda's Brilliant Damage Control Style Prep, and away I go! All you need is a blow dryer and your favorite round brush!
Be cautious when using this product on extremely fine hair as it is can get heavy. When someone with fine hair comes in and wants a beachy blow out, I'm able to make do with even less than a dime-sized amount of Universal Styling Creme. This stuff goes far, guys! You really don't need a lot.
Give it a try, or have your stylist use it next time your're in an Aveda Salon! You'll love it.