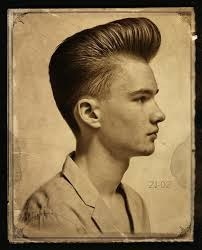 The pompadour has definitely made a comeback in the last couple of years and it requires products that are going to provide a lot of support and hold.
The first product you want to use is Aveda Men's pomade, which is the most essential. Once the wet hair is blow-dried to a state of 100% dryness, take a healthy scoop of pomade with one finger and run through the hair in all directions until the pomade is evenly distributed. The hair is now ready to be sculpted into the pomp shape by using any grooming comb.
For extra flatness on the sides, another great product I recommend is to use Aveda Control Paste. It is dime-sized to help literally paste the hair flat.
To finish your perfect pomp, I then recommend spraying Aveda Air Control all over to set the hair.
The relationship of these three products is seamless when executing this style not just functionally, but also aromatically, providing a fresh scent of spearmint and leaving the client feeling ready to go.