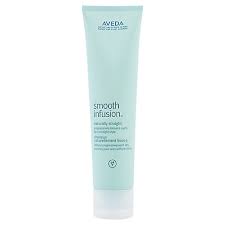 Have you ever struggled keeping your hair naturally straight? Living in San Francisco and having curly hair, the fog always finds a way to bring back my curls. But with Aveda's new Smooth Infusion Naturally Straight, I have found a balance. The other day I had a guest with curly hair. After her daily routine of letting her hair air, it always seemed to be frizzy.
I know what you're thinking: "I thought that it was only for blowing straight and to help when flat ironing the hair." But no, I've been trying new things. On the day that my guest wanted beach waves, I was very happy to hear it. I'd been telling her all day about the new Smooth Infusion Naturally Straight product. So I brought over the Dry Remedy oil, the Smooth Infusion Naturally Straight, Volumizing Tonic (for memory hold), and Air Control. They're all light weight products, which I think is the best after a fresh hair cut.
I start with a little Dry Remedy oil and a little Smooth Infusion Naturally Straight (Naturally Straight also has heat protection in its formula), then I rough dry the hair to about 70% dry. Next, I take about a dime size of Dry Remedy oil and Smooth Infusion Naturally Straight, work into the hair starting from ends to root, then add the Volumizing Tonic spraying from end to root. I then choose the proper size round brush and section the hair into about 1/4 inch sections, split in two. With the round brush, I start with the brush under the hair and the blow dryer on top but not touching the hair or brush. I start directing the up and the down. Next I switch the round and the blow dry.
This next step is very important. I take the blow dryer and the brush and choose which way I want the body to flow. So I over direct the hair, flipping the hair the same way. Repeat throughout the whole head. Finishing touch with Air Control and a little lip stick or gloss to help polish off the new look.