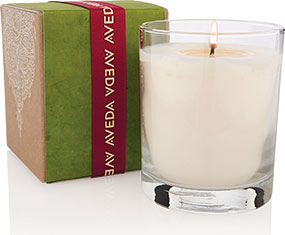 I was exposed to the Shampure aroma during my first visit to Cinta Aveda Institute. The lit candles are placed throughout the guest areas and allow this aroma to simmer in the air. However, I learned that I had an affinity for the aroma when it attacked me in the restroom. What a lovely scent! I had to find out what this scent is. It turned out that the Shampure scent has a combination of numerous flowers and plant essences, lavender and ylang-ylang to name a couple.
I love lighting candles, especially during the holiday season, and the Shampure scent gives off a calm and pleasant aroma – perfect for the holiday chaos. In addition to the wonderful aroma, the candle can last for 50 hours or more. I like that the candle is a compact size yet it can withstand the long hours of being lit during the holidays.
What really topped the cake for me, however, was when one of my educators shared with me that the candle can also be used as a moisturizer! Say what?! How? The candle is made with soy wax so one can pick up some wax while the candle is lit and use it as a hand moisturizer. Surprisingly, it does not have a greasy feeling at all! Also, because the wax is made from soy, it is safer to inhale compared to many other alternative candles. I wouldn't recommend finger-dipping into every hot, soy wax candle to use as a moisturizer, but the Shampure candles are definitely a good substitute when no moisturizer is readily available.