So many people jokingly ask me if I can give them more hair, and I say "well, Aveda just came out with a product that reduces hair loss and makes your hair feel thicker and fuller!"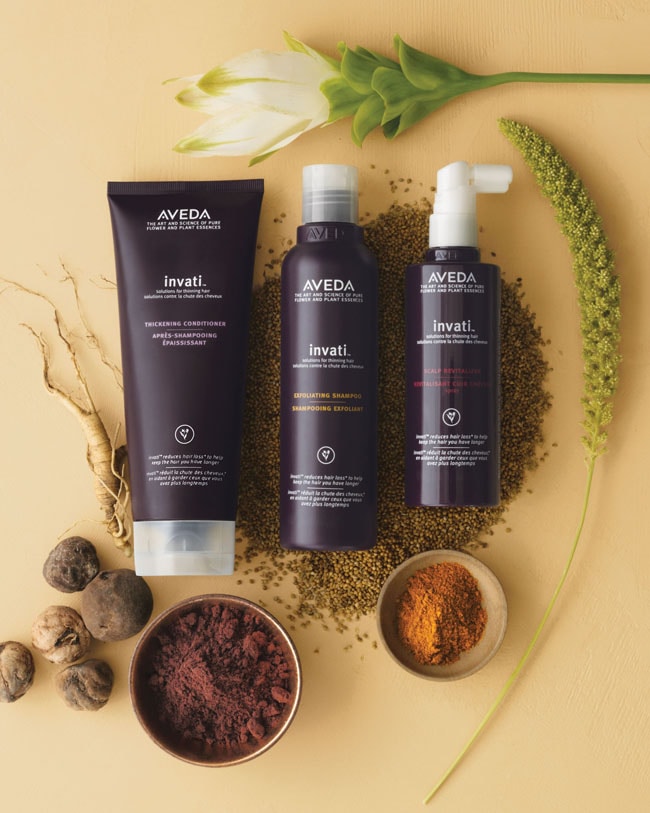 The new Invati line is quite an amazing development in terms of taking nautrual ingredients and doing something that heavy chemicals have only had minimal success with in the past. The Invati line is not Rogaine, it is not proven to grow hair where there is absolutely none. However, there are quite a few testimonials that it has at least some success in growing hair even in bald spots.
The secret is to use the whole system together.
Invati Exfoliating Shampoo: Uses wintergreen-derived salicylic acid to cleanse the scalp of sebum build up leaving the follicles open for the hair to come through.
Invati Thickening Conditioner: Uses arginine derived from sugar beets and soy protein to strengthen the hair and prevent breakage allowing the hair to grow longer and feel thicker.
Invati Scalp Revitalizer: Uses a blend of Ayurvedic herbs, such as turmeric and ginseng to invigorate the scalp and bring the blood full of nutrients to the surface to enrich the hair bulb so the hair can grow strong.
The shampoo and conditioner should be used as you would use any other shampoo/conditioner. However, the scalp revitalizer should be used twice a day, morning and night. To apply the scalp revitalizer take sections of your hair parallel to your part and going horizontally spray it on the scalp. Then, give it a good five minute massage all over. When you hair has reached the level of thickness you want you can reduce your use of the system to once a week or very fourth or fifth time you wash your hair.
Invati Commercial