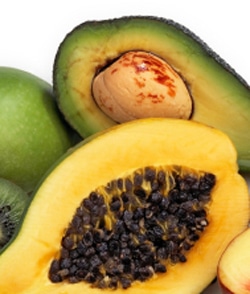 You never know what produce may be lying around your kitchen that can bring wonders to your skin. One of my Instructors informed me of the amazing benefits that Papaya has when you combine the seeds with apple cider vinegar. It can make an amazing refinement for the skin. I just happened to have a papaya in my kitchen and added it to my juice because it has great internal benefits. I tried the papaya refinement and followed with an avocado and honey mask and it left my skin feeling very soft and glowing.
Papaya is a great source of Vitamin A and helps in the removal of dead skin cells along with breaking down the inactive proteins. Papaya seeds like the fruit itself are high in proteolytic enzymes, which have wonderful medicinal values. Apple cider vinegar has innumerable healing and curative powers and is also antibacterial, antifungal and anti-inflammatory properties.
Here's how to make the refinement and mask:
Ingredients:
1) 1/2 papaya
2) Papaya Seeds
3) 2 tbsp apple cider vinegar
4) 5 tbsp of water
Slice the papaya in half, scoop out pulp and seeds, add a couple of table spoons of apple cider vinegar and grind the refinement in a blender of your choice until it reaches a pasty or cream like consistency or a consistency that allows you to apply the refinement all over the skin (You can also include the peel of the papaya as it has some amazing benefits to the skin such as it is also rich in Alpha-Hydroxy Acid that offers great anti-aging benefits)
Apply for 25 minutes on your face and then rinse off. This will help with reducing all those unwanted pimples and inflammation. Follow with the Avocado and honey mask for hydration. Avocado is loaded with vitamin E, healthy fats and antioxidants to help keep the skin smooth; the lemon juice contains citric acid, which may help "brighten" the skin, and the honey helps brighten the skin and also thoroughly cleanse with natural antibacterial/antimicrobial properties to it.
Avocado and Honey Mask:
Ingredients
1) ½ Avocado
2) 2 tbsp honey
3) 1 tbsp lemon
Simply mash and combine all the ingredients in a small bowl and apply to your face. Be careful around your eyes (as with all products). Let the mask sit on your face for about 20 minutes. Rinse with warm water. Follow with your favorite moisturizer. (I Recommend the Aveda All sensitive moisturizer or Tourmaline Serum)
Try adding papaya to your juice or eating it, it makes an even bigger impact on your skin because you are treating the internal parts of your body. One step at a time while taking care of the external parts of our skin and incorporating a healthy diet will achieve greater results.