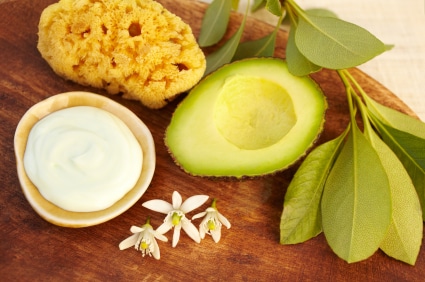 In this entry I will be discussing how to remedy dry skin at home. As the weather changes and we move into the winter months, I am sure we will all notice a change in our skin. When our bodies have trouble holding in the water and oil that it needs to keep skin moist, we end up with dry skin. One main reason you could have dry or scaly skin is due to low humidity. Heating and air conditioning can also contribute to dry skin.
Baking Soda

A baking soda soak is a folk remedy to relieve itching and dry skin. Add one cup baking soda to a tub of hot water. Soak for 30 minutes and air dry.

Oatmeal

Adding instant oatmeal to your bath will soothe your skin. The oats are packed with vitamin E, a nutrient vital to healthy skin.

Coconut Oil

This can improve the moisture and lipid content of skin. Best applied after shower to lock in the moisture or add a spoonful to a bath for a 30 minute soak.

Avocado

Since avocado is a natural emollient, it can hydrate and even prevent dry skin. You can use as a moisturizing mask one to two times a week. Mash half of the avocado and apply it directly to your face and body. If you are looking for more hydration, add a teaspoon of honey which will add moisturizing benefits to the skin.

Water

Drink lots of water. It helps to keep your body hydrated and can alleviate dry skin. Eight to ten glasses daily is the minimum quantity, but it is ideal to drink more!