Besides getting to pick our educators brains everyday at school, we get the rare opportunity to hear guest speakers on a regular basis. At school we are constantly hearing about different opportunities available to the students.
The Academy of Art and Cinta Aveda students team up and put their artistic talents together to bring what's in front of the camera and behind the camera together. You can use the pictures with the photographer's permission and start a portfolio. Its also great real life work experience. You can even get hours from the school this way.
Some of the guest speakers have included Cinta Aveda graduates, company owners, different skincare lines and many other people in the industry. It's awesome that we get to hear about the industry from such successful individuals and it's a great way to make connections. All the speakers are more than willing to answer questions and give the students helpful information about finding jobs, and working the field.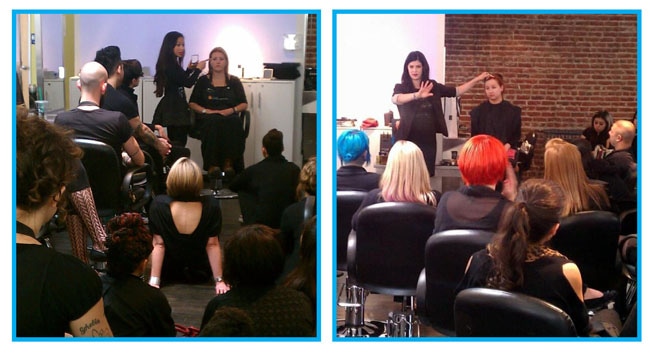 We also get special invitations to shows that are for professionals only. Last month I had the opportunity to go to a backstage Makeup Forever show for pros only. Not only were the products discounted for us but we got to hear first-hand about great makeup techniques and situations that happen in real life from some extremely talented makeup artists. We've even had speakers come to talk to us about how to run a business and the financial side of the business which was really eye opening. We are always getting the inside scoop here at a Cinta Aveda which just puts us one more step ahead after we graduate.