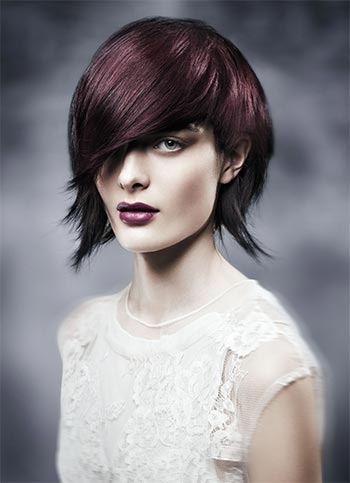 The current gothic trend is about creating a darkly romantic look with a glowing fresh faced porcelain complexion paired with dark lipstick, be it in red or berry, purple or burgundy. Mixing a foundation just a touch lighter than your natural color with your natural color can give a slightly pale complexion without looking overly theatrical or cartoonish. Staying with minimal foundation and concealer keeps it looking romantic. Contouring should be downplayed with slight emphasis on enhancing the cheekbones at most.
Deep colored lipstick creates an aura of mystery and drama. It is the focal point of this look. Eyes are downplayed, with light, neutral shadow and simple mascara. False eyelashes and heavy eyeliner are not part of this particular brand of gothic look. The look is more ethereal and natural with touches of intensely deep color along the line of Lorde. For added drama, the brows can be heavier and filled in darkly to play them up.
In more dramatic eye shadows, the trend this fall is metallics and a subtle metallic can be worked into this look as long as it's kept light and the lips are the main focal point of the look.