Let's talk about something we all have (though some have better ones than others): EYEBROWS!
Some people have naturally gorgeous, full, shaped eyebrows (go ahead and take a moment to dislike them), but some of us need more help with them than others. I will say personally, I am an eyebrow fanatic! I am always on the lookout for outstanding eyebrows, whether it be the shape, color, length, or what have you, and I have absolutely no problem telling the person attached to them how good they look. But on that note, some of us need help with our eyebrows and need to take more time focusing on them. I am the second one.
While I do have a good natural arch (toot toot!) I have to work everyday to keep good looking brows. On almost a daily basis I have to tweeze, trim, fill-in with a powder and look for symmetry to achieve the look I need to frame my face. That's right, I said frame my face because that is what they do.
Have you ever seen anyone without eyebrows or imagined what you may look like without them?


Weird right?!
So why not take the extra few moments in the morning to put them on if you need them? Below I have a picture of basic guidelines to achieve the most fitting brow to frame that gorgeous face of yours.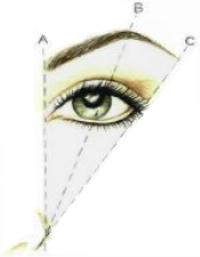 Hold your eyebrow brush or pencil just resting right by your nostril straight up, this is where point A, or the head of your brows, should start. Now keeping it in the same place, just resting by your nostril, slowly angle it to line with your pupil. This is where your arch should be, or point B. Again, keeping it in the same place, angle the brush to the end of your eye, this will tell you where the end or tail of your brow should be, or point C.
Now that you know where your face wants your eyebrow to be, with some help of course, you have one more choice to make:
What kind of shape do you want?
Do you want the head to be more rounded off or more square?
Do you want the angle to be harsh or soft? Rounded or flat? Curved or square?
What shape will go best with my face shape? Do I know what face shape I have? How can I figure out my face shape?
Who knew so much went into such a small area of hair?! Below is just a quick little sketch of face shapes and a slight idea of a shape.





Oval
Forehead is wider than the chin
Prominent cheekbones
Face gracefully tapers to a narrow oval chin






Round
Face is almost as wide as it is long
Face is widest at the cheeks
Long
Forehead, cheekbones and jawline are all about the same width
Can tend to have a prominent chin
Has an elongated appearance





Square
Forehead, cheekbones and jawline all about the same width
Squared jawline is the most obvious feature






Heart
Similar to oval but the chin tapers to a point.







Diamond
Not as common as the other face shapes
Typically the face is highly angular
The forehead is somewhat short
The face is widest at the temples


I hope this helps you out, best of luck to you and your brows!