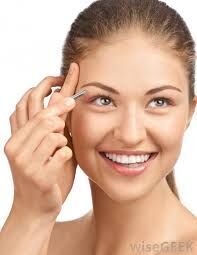 Brows are probably the most important feature of the face. Brows explain emotion, express style, and are almost always what others are staring at on your face. Brows create the shape to the rest of your face, style, and present your attitude on personal grooming.
The evolution of brows has been drastic, whether it was thick bushy brows, or thin rounded ones, brows always need to be styled. Brow styling, or grooming, dates back to Ancient Egyptians, who used kohl, a dark, pigmented mineral to accentuate their brows. Egyptians would take the pigment and fill in their brows. When silent films began (around 1920s), facial expression was a major factor in explaining the story line. Women would shave their brows off and draw long, rounded brows. This way, whatever emotion they conveyed, the audience could understand it better.
The 1940s and 1950s had a fuller brow. Women still shaved, or blocked away, their brows, but usually only the outer half of the brow. Keeping the center brow allowed for a fuller, more natural brow, and drawing the second half could create a dramatic, high arched, full brow. Today's popular brow is a combination of a thin and thick brow, where the natural shape is not only kept, but also groomed. The hair outside the natural shape is removed via wax, threaded, or tweezed, then the hair length is trimmed to match the brow shape.
No one wants others staring at your brows because they are unkept, which is why a multitude of brow bars have started. Women can go get their brows tamed for $20-$30, depending on the salon and how much upkeep is necessary. It's a fun, easy, inexpensive way to feel pampered and leave feeling gorgeous!