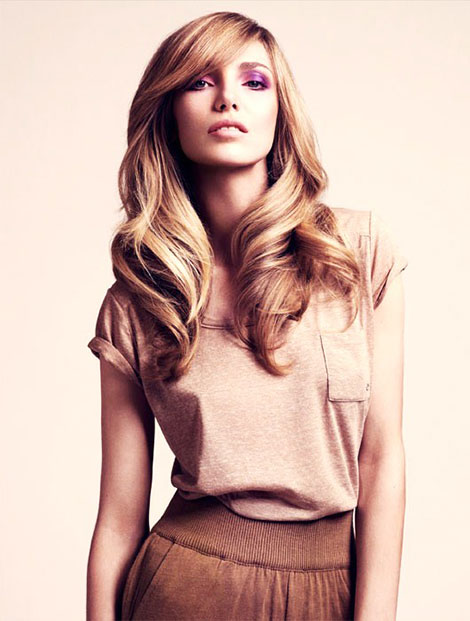 No great haircut is complete without a great blowout; the style truly is everything! Every cut has a blowout that suits it best. For example, a concave graduation looks great with a sleek smooth style, and a natural graduation, on curly hair, looks great with a diffused style.
Today, I'm doing a run-through of my favorite blowout for long, round layers.
Before I go into details, here is a list of all the products you will be using for this round brush blowout:
a round brush,
pure abundance prep,
phomollient, and
defining whip.
The end goal is a voluminous blowout with loose curls.
The first step is to add in your prep and the phomollient.
By the time you are ready to style your guest, their hair will be about 50% to 60% dry, so the second step is to rough-dry your guest's hair until it is about 85% dry.
I like to section out a mohawk subsection and one subsection on either side of the head. In the back, I work my way up from the bottom, taking horizontal subsections. To achieve the look you want, make sure to create as much volume as possible when you get to the crown and the mohawk section. If your guest's hair really doesn't want to hold a curl, feel free to pin the curls in the mohawk as if you are doing a hard set.
Once the hair is completely dry and has the effect you want, take a dime-sized amount of the defining whip, rub the product in between your hands to warm it up so that it applies evenly, and apply it to the ends of your guest's hair. This will give a piecey look and define the curls. If your guest likes a strong hold, you can finish off the look with a little bit of air control—it's up to you!