We all have our issues with choosing products for our skin and finding the best effective products with ingredients that will benefit our skin! AHA's and BHA's are great ingredients for giving a youthful look to our skin. They both work in their own way for a particular skin type or skin problem.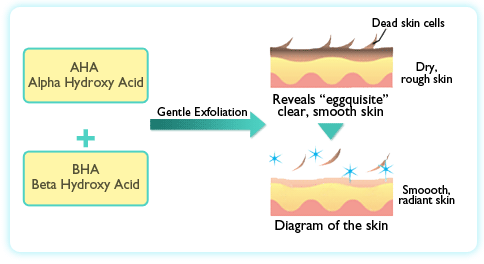 Alpha Hydroxy Acid (AHA) is an acid that is derived from fruits that contain skin rejuvenating properties. Most commonly known are Glycolic, Lactic, Citric, Malic, and Tartaric Acids and are found in most skin care formulations as they promote the cell turnover rate. The process in which they work is by melting down the intracellular fluid letting dead skin cells to be removed from the surface of the skin. AHAs are water soluble and are best for the sun damaged or individuals with a thicker dermis. AHAs exfoliate the surface layers of the skin and help retain more water which, in turns, helps the overall moisture content. They do not penetrate as deep as BHAs; the overall effect of the AHAs is felt on the surface of the dermis.
Beta Hydroxy Acid (BHA) is specifically one organic compound—a salicylic acid. BHA will work in the same way as the AHA does by breaking down and exfoliating dead skin cells. The defining difference is that salicylic acid is oil soluble, which has the ability to penetrate pores filled with oil and exfoliate those pores. BHAs are great for those individuals with oily or acne prone skin. There is an anti-inflammatory property as well as an anti-bacterial affect from using a BHA. It is also great for sensitive skin types and those that may have a specific skin condition.