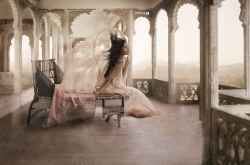 While at an Aveda Concept Salon or an Aveda Institute, one can't help but notice the allure of beauty and art all around. The Aveda style uniquely speaks of etheric images beckoning us to a moment of visual wellness.
Like a palette of nature's colorful expressions, the subtle and bold vintage water color wash you from the moment you step in. You become excited and sun drenched. In other words, an experience at Aveda is an immersion into fine art.
As an Esti student I am often reminded that my education is not just about technique, application, and product knowledge. While those subjects set the foundation to build a life long professional career from, I believe the true essence of Aveda training and service is about creating art through bringing forth each guest's individual beauty.
I have found that the "compliment sandwich" is a chance for me to share with my guests what makes them unique. To emphasize a person's individual and personal assets, I sometimes mentally say to myself, "what makes this guest specifically beautiful?"
I have found that a sincere compliment really helps to ease a guest into their service. I believe this gives them a feeling of connection and lets the guest know that I see and I care about them.
A finishing touch of a lip or cheek color is another opportunity to introduce to the guest the Aveda allure, so when they step out of the experience center they feel as if they have experienced not only moments of wellness from their service but have participated in making the everyday into an expression of beauty and art.