Most of us love to color our hair. Now, in 2014, silver ash color hair is very "in", or color melting aka Ómbre. Have you ever noticed after your color service, your hair feels like hay? Yes, I said hay–with a stringy straw like texture. This happens because we're opening the cuticle to lift cortex. With process, you walk out of your salon with beautifully colored hair, but now the pH level in the hair is off. What I like to do, both for myself and my guests, is use the Aveda Botanical Treatment.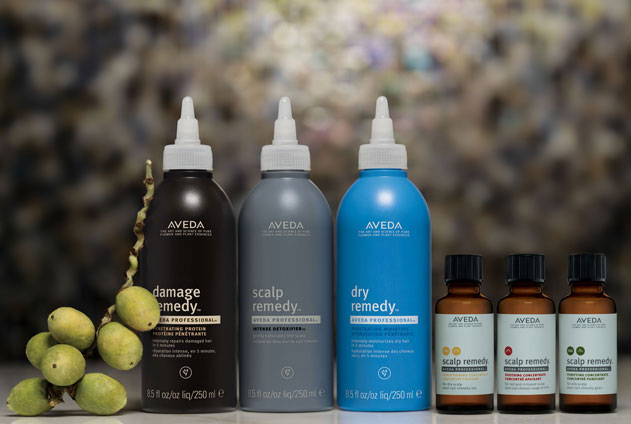 The Aveda Botanical Treatment comes in 3 different formulas: Damage Remedy, Scalp Remedy, and Dry Remedy. Plus, there are three concentrate oil formulas: Soothing, Conditioning, and Purifying. My favorite Aveda Botanical Treatments to use are the Dry Remedy and the Damage Remedy, mixed with the Soothing concentrate oil and Conditioning concentrate oil. This mixture really helped me after overly coloring my hair four different colors within a year. It's safe to say that I had a lot of damage going on.
When I was in Beta phase is when I started doing more research on our Aveda Botanical Treatment. My educator at the time cut my hair into a very short bob. About three months later, another student and 
I were talking and she noticed that my scalp was super itchy (also I was probably scratching or patting my head a lot that day due to the irritation I was going through). She asked me if I've ever tried our Aveda Botanical Treatment since I've been eyeing it lately. I said no but I should.
We mixed Dry Remedy, Damage Remedy, Scalp Remedy, plus two concentrate oil, the Soothing concentrate oil and the Conditioning concentrate oil. I have to say, it's been almost a year and about five treatments. I no longer have to use Scalp Remedy as much as I use the other because my scalp feels so much better and my hair is getting past my shoulders now. I love this Aveda Botanical Treatment. It's hands down the best, and I've tried lots of different deep conditioning products. So go out there to an Aveda school or an Aveda salon and try a Botanical Treatment.