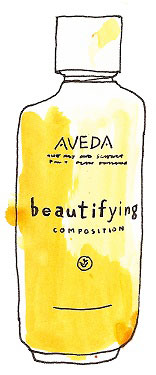 I have been in love with the Aveda Beautifying Composition Oil since I first discovered it in Intro Phase. Whenever we used it during practicals, I was always eager to use it!
I felt all icky from wearing makeup all day and, as we began to perform practical facials on each other, I decided to give this product a proper test. Although I'm usually hesitant to try new skin products, I volunteered to go first. My partner used the Aveda Beautifying Composition Oil throughout my treatment, and confirmed what I already knew — I love this product. If I experience an amazing effect on me first hand, it makes a big impression on me.
The reason I love this oil so much is because I honestly do notice a real difference in my skin on a day-to-day basis. It removes my makeup — even waterproof and hard-to-remove eye makeup. It smells of organic lavender, rosemary and bergamot; the smell is so nice that you instantly become a little more relaxed.
The last new oil I tried from Aveda was Energizing, which I knew instantly wasn't for me as soon as I rubbed it into my skin. The scent of the Beautifying Composition Oil, on the other hand, was love at first sniff! In addition it really helps moisturize skin and make it softer and smoother. Great for use as massage oil, dry skin, body, and a scalp remedy too!