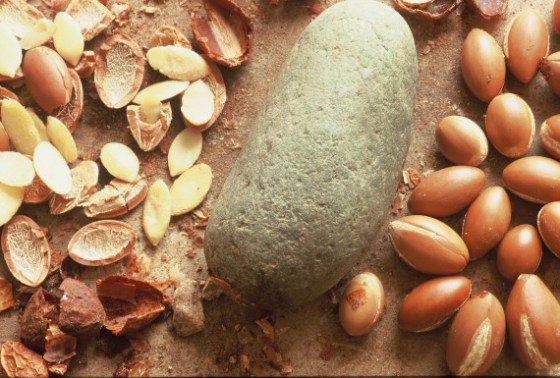 On the edge of the Sahara desert in Morocco is the indigenous argan forest. Local Berber women, determined to save it from desertification, found help in the form of Professor Zoubida Charrouf of the Faculté des sciences at the Université Mohammed V of Rabat. She was able to help them form the Targanine Network—a cooperative in their local village. In partnership with Aveda, the women of the Targanine Network are able to process the nuts from the argan trees more efficiently to sell to international markets.
For hundreds of years the locals ate the fruit and nut from the argan tree and it was a major part of their lives. Over hundreds of years, the Berber women have used the argan oil for medicinal purposes, cooking, and beauty, while the shells were used for heating. Aveda sources 100% of its argan oil, which is certified organic, from the Targanine Network and have provided funding to purchase processing equipment that helps the women separate the seeds, thus increasing their productivity.
The argan tree lives to be between 150-200 years old and does not start producing the fruit until it is 30-50 years old. The beauty benefits from the oil produced from the seed of the fruit have become well known around the world. For hair, argan oil adds moisture and tames frizzy ends. If you have a dry scalp, you can dab some argan oil along the scalp before washing your hair. For the face, people apply argan oil directly after cleansing and treatments. At Aveda, argan is used in the Green Science line. It has been proven in case studies to show more smoothness to the face creating a clear and radiant glow to the skin.