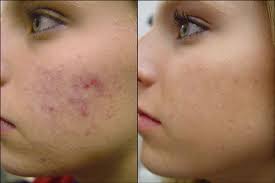 Acne can affect you in many ways, both emotionally and physically. I myself have gone through the troubles and frustrations that acne can bring. I'm going to explain the different types of acne and how to help your skin heal, as well as give some tips for prevention.
Acne has four grades of severity:
Grade I—Minor breakouts, minimal comedones (black heads), a few papules (pimples).
Grade II—Many comedones, and occasional papules and pustules.
Grade III—Red and inflamed, many comedones, papules, and pustules. Better to get treated by a dermatologist.
Grade IV—Cystic acne. Cysts with comedones, papules, pustules, and inflammation are present. There is a higher risk of scarring and deep pitting. This grade of acne can only be treated by a dermatologist.
There are many ways to help with the symptoms and treatment of acne. It's very helpful to keep your skin clean and have a good skin regimen. Facials are recommended once a month or as needed. A healthy diet is also good to keep in mind. Use products that are noncomedogenic. Avoid too much sun exposure and it can also help to reduce stress. And don't pick your blemishes. Not only will you prevent the infection from spreading, but you will reduce the chances of scarring, and you'll decrease the healing time.
Acne is a constant battle but if you take the right measures in keeping your skin clean and hydrated with the right products you can definitely win the fight.