I know that it's really important to know who the nominees are and who won the awards but let's get real… hairstylists watch for the hair and the couture. Yes, the hair and custom-made designer dresses are of the upmost importance in this night of award winnings and acceptance speeches.
Trend alert! What does Megan Fox, Tina Fey, Jessica Alba, Connie Burton, Jennifer Lopez and Amy Adams all have in common?
Give up?
All of their amazing hairstylists had the same idea.
Their styles were gorgeously asymmetrical and side swept, with beautiful marcel wave-like curls that elegantly draped down one side, while the other is cleanly pinned back. This style is retro meets modern, which works well with the strapless corset and sweetheart neckline gowns. Not a lot of leg was showing but a lot of cleavage was. Cutouts in the front from the neck to the waist line tastefully showed cleavage and ripped abs but still leaving some room for the imagination.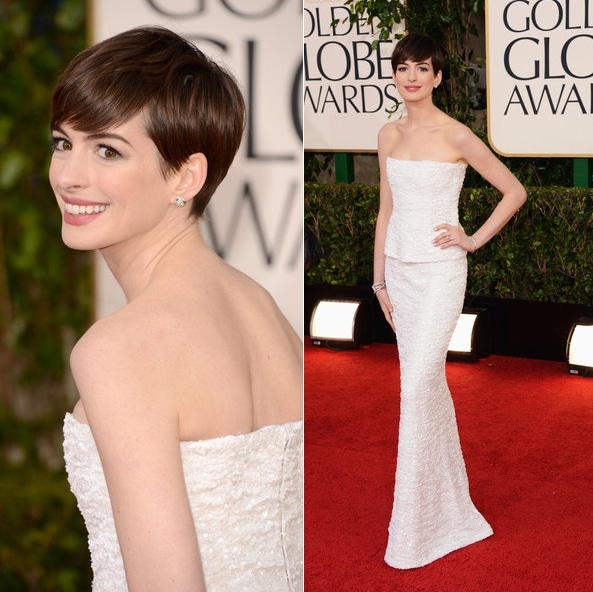 Anne Hathaway's pixie was adorable but circumstantial because she cut her hair in the movie, Les Miserables.
Lena Dunham from The Girls had a clean simple pixie but Halle Berry takes the cake on the best pixie. It was styled simply however don't be fooled, it's fierce.
Christian Bale and Bradley Cooper take the Golden Globe cake for the sexiest men with long locks of a whole lot of love. They both had at least chin-length hair, but it was worn back and cleanly kept. Typically I don't care for men with longer hair than Anne Hathaway, but they pulled it off and wore it very well.