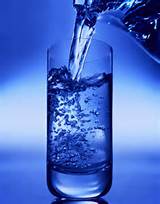 If you're tired of looking sleepy or under the weather, there are plenty of things you can try to give your eyes a lift. Here are some quick fixes:
1) Drink several glasses of water. Eyes tend to get puffy due to water retention, which is caused by a high concentration of salt in the area around the eyes. If you ate a very salty dinner or cried before bed you might notice increased puffiness in the morning. Drinking plenty of water flushes the area and causes the swelling to go down.
•On particularly puffy days, keep drinking water all day long to keep yourself hydrated.
•Avoid substances that tend to dehydrate you, like caffeine and alcohol.
2) Apply something cold to your eyes. Eye puffiness is a buildup of fluids in the tissues around your eyes, and like other types of swelling, it can be reduced with the application of a cool compress of some kind like cucumber slices or cooled tea bags. Both work well to temporarily reduce puffiness. All you have to do is lie back and place them over your closed eyelids for 15 minutes or until they grow warm. Or you can go old school by putting 2 metal tablespoons in the fridge and apply them daily by placing the backs against your eyes.
3) Put potatoes over the puffiness. Potatoes are said to have natural astringent properties.
•Peel raw potatoes. Cut in half. Place the halves over your eyes for 10 minutes. The potato will cool your eyes and any swelling will decrease.
•Try grated potato.
Simply grate a fresh potato and apply it to your eyes for 15 minutes, then rinse.
Other possible causes of puffy eyes include:
Lying down for several hours in a horizontal position and then standing up can lead the fluid that was resting under your eyes to suddenly be pulled down by gravity. Try using an extra pillow while sleeping so that the fluid is not as drastically drawn down when you get up to reduce the puffiness. If you don't sleep horizontally, and instead sleep on your stomach, try to move toward sleeping on your back instead. Stomach sleepers tend to have the puffiest eyes, since this position allows fluid to collect there. Determine if you have a condition associated with puffy eyes. Sometimes the swelling is a side effect of another condition. Getting treated for the condition may help cure your puffy eyes. Here are a few conditions that commonly lead to eye puffiness: pregnancy, hormonal variation in the menstrual cycle, dermatitis (sensitive skin is more likely to swell in response to irritants), allergies, mononucleosis (puffy eyes may be an early symptom of infection, medication (puffiness or water retention could be a side effect), or other more serious medical conditions.